Sir The Baptist – Prayers on a Picket Sign
In "Prayers on a Picket Sign," Sir The Baptist doesn't have many comforting words for the white liberals who have reluctantly left their research labs and coastal condos to protest Donald Trump (me included). His message to us is blunt: "Welcome to the slave ship, go on and jump in line."  The post-election shock that has swept through white, liberal America doesn't resonate with him. He's survived oppression all his life, from Bush to Clinton and back to Bush. Eight years of Obama, and our criminal justice system is still rife with racism. With "Prayers on a Picket Sign," Sir The Baptist invites white liberals to have a small, sour taste of the oppression he knows well.
Sir describes Trump's presidency as "a time where everybody wanna protest the city." He "don't wanna take away the fact that it is needed," but wonders where we've all been for the last few years. He sings, "When I was screaming 'Black Lives Matter' you told my ass to keep it." In recent months, droves of Americans have protested everything from the wage gap to proposed cuts to the NIH. Yes, equal pay and funding for research are important issues, but why do we see them as more important than black lives? We didn't storm the streets in Women's March-like numbers after the murder of Michael Brown. Many of us complained when our Black Friday was hampered by black demonstrators. We're outraged that Russia meddled in the US election, but only disappointed that Betty Shelby was just found not guilty for killing Terence Crutcher.
"Prayers on a Picket Sign" isn't angry, although Sir The Baptist has every right to be. Instead, it's smooth and soulful. It's a sweet reminder that if we as liberals say we stand for equality, we must prove it. I needed that reminder. For that, Sir The Baptist is my Sunday's Best.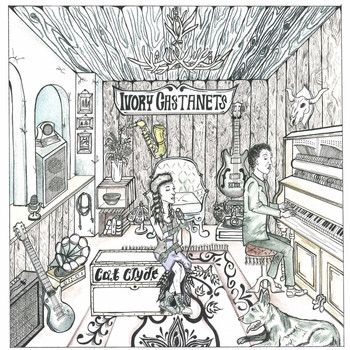 With its slide guitar and foot-stomping beat, Cat Clyde's "Sheets of Green" sounds like it would play in an old Western saloon. Only in this saloon, everyone's on Molly. Or maybe they're just smoking some dank weed. Either way, Cat's "mouth is dry" and her "face is numb." Her relationship with drugs seems a little unsettling, but mostly exciting, even sexual – like if the Weeknd wrote Western music.
From tense opening lyrics to a relaxed guitar solo, "Sheets of Green" is a journey alongside Cat Clyde as she is taken "underground to see the sun" by a drug personified by female pronouns. Sounds like a dangerously appealing Sunday adventure to me.
Brother Ali "put pen to paper the first time when (he) was barely eight or maybe nine. That was the late 80's, Reagan time." Since then, he's been impacting hip-hop, its relationship with Islam, American politics, and more. "Pen to Paper" is a hard-hitting synopsis of his impressive career. It touches on the freedom he felt when he wrote his first rap song ("The entire landscape of that blank page was mine"), his first time meeting KRS, his conversion to Islam, his rise to fame, and his rejection of American corporatism.
Inspiringly, the freedom he felt when he was eight doesn't seem to have diminished. The song contains no regrets, only reaffirmations of his decisions. Near the end of the song, he states:
"Whether they jeer me, cheer me, boo, salute me, or just shoot me
Let it be known, my whole life I break that cycle set it in stone
I'd rather be known as a man that stand on my own
Rather than beg at a throne cold."
"Pen to Paper" encompasses Brother Ali's 30-year venture through hip-hop, and doesn't mention his albinism or legal blindness once. Contrarily, his friend Amir Sulaiman opens the song with a dominant, powerful poem. Writers like me like to focus on artists overcoming adversity, and proving they can thrive through feel good stories. Brother Ali isn't here for that bullshit. The opening poem (below) dispels any idea of weakness. No, he's not beautiful, but he's something better than beautiful. He's an elegant beast.
"I am not beautiful, I am an elegant beast
A well-mannered monster, a charming barbarian
I will pillage your heart with language so lavishly violent
You will curse me for coming and curse me for going
Your crying and your moaning will share the same sound"
Happy Sunday you barbarians! Go charm someone this week.